WHAT WE DO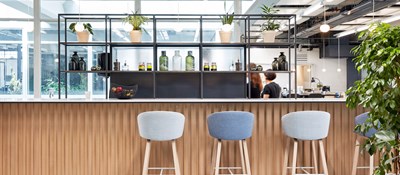 OUR PARTNERSHIP
Colliers and HFC share an important vision, commercial properties should breathe hospitality. Hospitality should be present in the DNA of all property-related services, in which the satisfaction of the end user is central. Satisfaction must be quantifiable and transparent at all times, so that proactive management and control can be achieved. This is where Colliers and HFC intervene directly together. Because those who experience the ultimate guest experience create loyalty, retention and positive word of mouth advertising. As a strategic partner, HFC fully unburdens Colliers in the field of facility management.
DESIRED GUEST SATISFACTION
Our starting point is an integrated approach to Facility Management based on the desired experience and guest satisfaction. With extensive experience in Integrated Facility Management in both hotels as commercial real estate, combined with strong analytical skills, we investigate the desired outcome by means of activated workshops.

MARKET RESEARCH
We analyze local markets to strategically select the right supply chain. That means we select suppliers with the right 'fit'. We oversee local laws and regulations, optimize potential current supply chain procedures, professionalize, and digitalize facility services processes and make them leaner and more sustainable, provide financial and guest experience insights.

OPERATIONAL EXCELLENCE
Based on both the desired outcome and the supply chain environment, we implement operational excellence. We translate operational, commercial, cultural and strategic needs into a custom-made commercial proposal. We advise on improving current or creating new concrete Key Performance Indicators and Service Level Agreements.

SUCCESFULL IMPLEMENTATIONS
We use the implementation period to prepare and carry out our activities to get off to a flying start on go-live. A successful implementation is assured when the continuity of the service is guaranteed. All the pieces of the puzzle must be in the right place. To guarantee continuity and quality, all activities are primarily focused on maintaining the running processes. We identify potential risks and appropriate countermeasures, to ensure that there are no surprises. We coordinate and execute the entire implementation process and are responsible for implementing all back of house processes and installing and training suppliers. Planning, organizing, and controlling are crucial to complete the puzzle. We manage the desired quality, and we ensure full alignment of the entire supply chain and the creation of a shared integrated vision. Let's go!

GRIP ON SERVICE DELIVERY
As strategic partner, HFC fully unburdens Colliers in the field of facility management. HFC is the single point of contact and manages all suppliers, invoicing flows and quality standards. We provide optimal management of financial management information. We use financial reports, with which we have an up-to-date insight into budgets, exploitation , outstanding commitments and forecasts. Our management information together with our performance indicators form an instrument for achieving improvement in service delivery and performance.