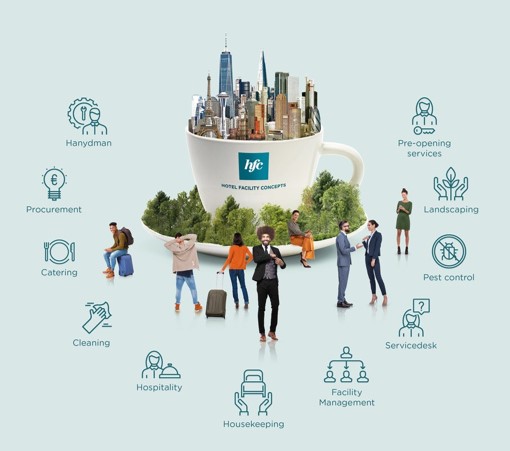 STRATEGIC - SCALABLE - SUSTAINABLE - SMART
We believe that strategic, integrated facility management is the most effective way to boost brand performance and to save time and costs. We are your single point of contact and your owner representative, responsible for the entire supply chain contributing to your short and long terms vision and strategies. Our services are scalable and modular resulting in business model optimization and organizational unburdening. 
HOSPITALITY - FLEXIBILITY - SUSTAINABILITY
With HFC's distinctive and successful guest-oriented approach in integrated facility management, tailor-made hospitality and facility solutions within the commercial real estate market are developed. Translating and optimizing the hospitality concepts from the hotel industry, to commercial real estate result in scalable solutions, flexibility in costs and quality improvements. We are your single point of contact, your owner representative and your coordinating partner, responsible for managing, purchasing and implementing the entire supply chain of the integrated facility solutions.